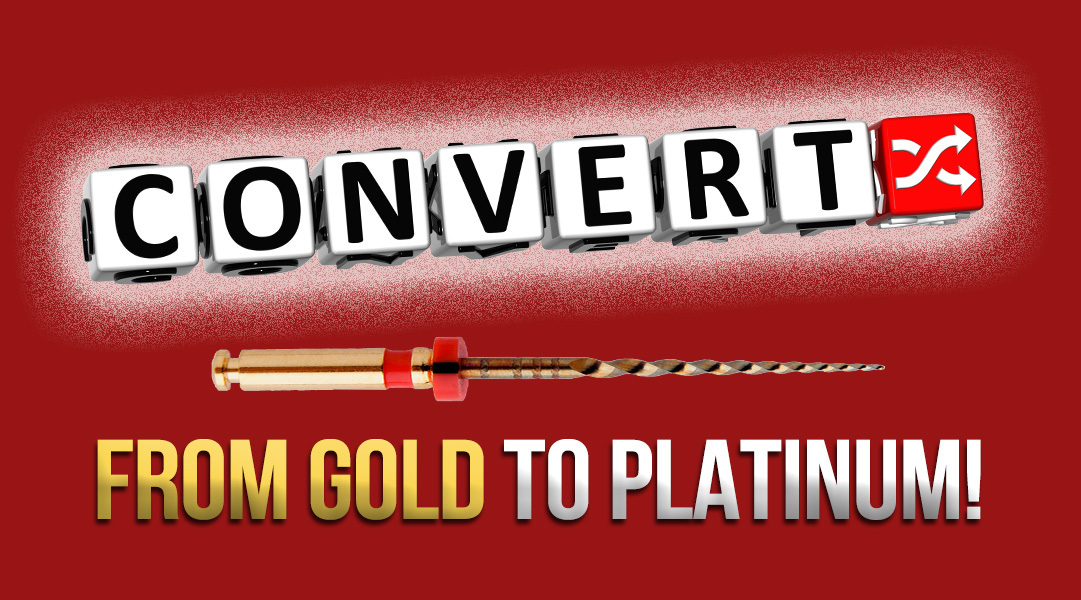 Converting from ProTaper® Gold to EdgeTaper Platinum™
by Dr. Charles Goodis, CEO and Chief Design Officer for EdgeEndo®
EdgeTaper Platinum™ was introduced last year by EdgeEndo® as a replacement for ProTaper® Gold. The results and feedback have been amazing. For Endodontists and Dentists who want to perform at the highest level of care, their choice is clear to use EdgeTaper Platinum™. Not only do you get performance, quality and clinical results but you save ½ on your instrument costs. This true focus on cost in a real economy will save you tens of thousands of dollars a year and millions over your career. The biggest value an Endodontist and Dentist has is to protect, nurture, and grow his reputation. That can only be done by using the best products like EdgeTaper Platinum™ which internal studies have shown to have twice the resistance to cyclic fatigue as ProTaper® Gold and is more flexible.
Why Convert to EdgeTaper Platinum™?
The why of EdgeTaper Platinum™ with FireWire technology is simple:
Improved shapes for predictable cleaning, disinfecting, and obturation.
Safer shapes because EdgeTaper Platinum™ the FireWire™ metallurgy allows the files to follow the original canal anatomy and safely shape the canal.
Greater efficiency as less dentin is being removed.
You will now be able to experience a new sense of confidence and skill that was always in you and now you can enjoy by using EdgeTaper Platinum™.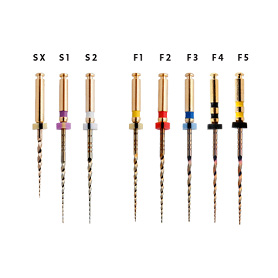 How to Convert to EdgeTaper Platinum™
This is really simple. EdgeTaper Platinum™ uses the same file labels: SX, S1, S2, F1, F2, F3, F4, F5. It's used the same way and forms shapes so similar that you can even use ProTaper Gold® Gutta Percha to fill the canal.
Start: Call EdgeEndo® or go to EdgeEndo.com. Buy and start using EdgeTaper Platinum™ and stop using ProTaper® Gold.
Access: Remove dentinal triangles for straight-line access. This can be done by taking SX 4-8mm into the canal.
Glidepath: Initiate the Glidepath using a #10 hand file and confirm working length. You can go to Shaping the canal with the S1 or fully shape the Glidepath with EdgeGlidePath™. This single file does the work of #15, 20, 25, 30, 35 hand files in a step-back technique and #1, 2, 3 Gates-Glidden burs with a maximum flute diameter of 1.0mm.
Shape: Shape the canals by first taking the S1 about halfway down the canal, then take the S2 halfway down the canal. Then alternate between the S1 and S2 until the working length is reached.
Finish: Take the F1 to the Working Length. Then depending on the Final Finishing Shape you want, either obturate the canals or take the F2 and following Finishing Files as needed.
EdgeTaper Platinum™ is for me!
Yes it is! Once you use EdgeTaper Platinum™, I know you will find it is better than ProTaper® Gold and you will shape, clean, disinfect, and obturate better than ever before and at half the cost!
The Amazing Strength of EdgeTaper
Cyclic Fatigue Testing – Average Time to Failure in Seconds
Cyclical fatigue test was performed using a custom test system with each file rotated at 500 RPM while 3mm of the file tip was inserted in a test block with a 90° curvature. Time to failure (seconds) was measured for each instrument.
Learn more about our testing method on our Testing page. 
File behaviors such as "No Bounce Back" can be viewed on our videos. 
EdgeTaper Platinum™

ProTaper Gold®

EdgeTaper™

ProTaper®